PMO Governance Book Review by Kirkus
A global leader in book reviews, Kirkus, provided an exceptionally warm review of the "PMO Governance" book. Re-print of the review: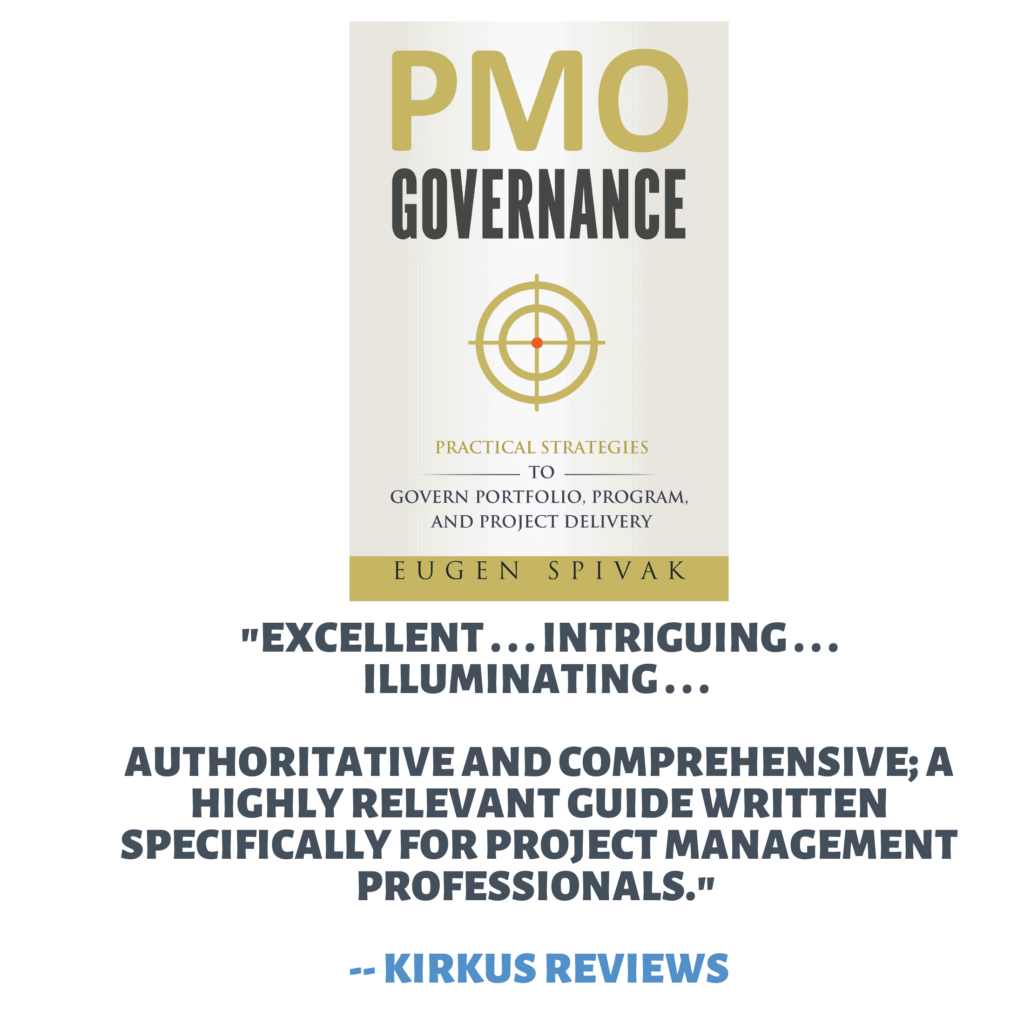 "An expert examines the inner workings of the Project Management Office.
Whether a business organization thinks of its needs in terms of projects, programs, or portfolios, there is a standardized process for management that should funnel through a centralized PMO. Spivak, whose background encompasses extensive project management experience as well as management consulting, dissects and explains the optimum functioning of the PMO in this excellent debut. The book offers a useful overview of project management as well as a practical, in-depth examination of all aspects of PMO governance. The author outlines functional responsibilities and governance of the PMO, describes project management methodologies, and addresses process maturity levels. In a discussion of specific project-related career positions, Spivak doesn't merely put forth a job description for program manager, PMO director, and other jobs—he very effectively outlines the core competencies necessary to excel at each role. The final three chapters of the volume will probably prove the most valuable to business leaders. They cover PMO best practices, leadership, and overall implementation. The author offers his "very important guidelines" for achieving PMO effectiveness, each of which is based on his experience, and uses relevant examples. He also provides specific guidelines for portfolio, program, and project management, clearly delineating the differences as well as "Guiding Statements" for building effective PMOs. A particularly intriguing section of the work, especially for larger organizations, concerns the implementation of "megaprojects" (initiatives with $1 billion-plus budgets). As for leadership, Spivak wisely covers team building as well as personal, interpersonal, and professional traits of exceptional project management leaders. The last chapter presents a short but illuminating PMO business case based on one of the author's clients. The content is intelligently organized and expertly written, making liberal use of examples. Each chapter concludes with a bulleted summary of key points. Spivak willingly shares his knowledge throughout the book. For example, he details nine strategic recommendations for PMO improvement, contrasted with nine common pitfalls, with helpful recommendations for avoiding them.
Authoritative and comprehensive; a highly relevant guide written specifically for project management professionals."